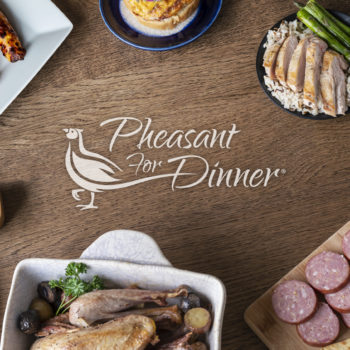 This is a great recipe to use to change up your Holiday traditions or if you just simply enjoy having a bird and stuffing for a meal!
Ingredients
Stuffing
1

Oz

Olive Oil

1

Tbsp

Onion

Chopped fine

1

Tbsp

Celery

Chopped fine

1/4

tsp

Garlic

Minced

2

Tbsp

Chestnuts

Chopped fine, can use frozen

1 1/2

Cups

Breadcrumbs

Coarse and dried

2

Oz

Butter

Whole

2

Cups

Chicken Stock

1

Sprig

Thyme

Freshly picked from stem

1

Leaf

Sage

Chopped

1

tsp

Parsley

Chopped

Salt

To taste

Pepper

To taste
Instructions
Pheasant
Season pheasant with salt and pepper and sear the bird in a hot pan with 2 tablespoons vegetable oil, turn bird on all sides to sear evenly.

Place bird in a 350 degree F oven for about 20 min, to check make a small cut in thigh meat and juices should run out clear not red, let bird rest before cutting.

Cut the legs and thigh off and pick the meat from the bones, reserve. 

Carve the breasts off the bone and reserve.
Stuffing
In a small pot heat oil and add onion, celery and garlic and then saute for 5 minutes on medium heat.

Add chestnuts, breadcrumbs, butter and chicken stock and cook all together.

Finish with picked leg and thigh meat, thyme, sage, parsley and salt and pepper.
Notes
To Serve:
2 cups celery chestnut stuffing, see recipe
12 pieces brussel sprouts, boiled in salted water till tender, quartered
2 ounces of diced bacon
Spoon the stuffing onto two plates, use a ring mold if you want to make a nice presentation. Slice the pheasant breasts and arrange them on top of the stuffing. In a hot sauté pan add bacon and cook until crispy, add cooked brussels sprouts, salt, and pepper and spoon over pheasant.
Recipes?
MacFarlane Pheasants bring gourmet flavor, convenience and flair to the menu. From appetizers to pheasant entrees, this traditional gourmet ingredient adds natural flavor to make simply sensational salads, appetizers and savory pheasant stir-fry dishes. We offer a wide selection of pheasant recipes for appetizers, soups, salads, and entrees.