Wild Rice Stuffed Pheasant Breasts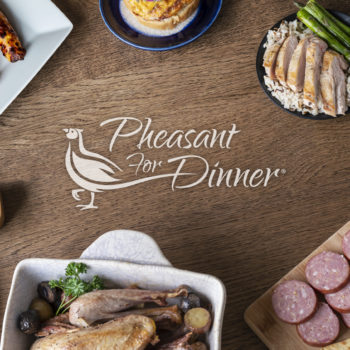 A superb way to serve pheasant breasts with a delicious wild rice.
Ingredients
2

qt

Chicken Stock or Canned Chicken Broth

1

lb

Wild Rice

Long grain

1/2

Onion

Diced

2

Carrots

Diced

2

Tbsp

Garlic

Roasted

1/2

Cup

Dried Apricot

Small and diced

10

Boneless MacFarlane Pheasant Breasts

Remove tenders and reserve for stuffing, cut a small pocket on side for stuffing

1/2

Cup

Olive Oil with Chopped Rosemary, Thyme, and Sage

1

Tbsp

Salt and Pepper Mix
Instructions
In a saucepan, bring chicken stock to a boil and add rice, cook until soft and until most of the liquid is gone.

Add the onion, carrot, garlic and apricot.

Cook until the vegetables are soft and all liquid has been absorbed.

Refrigerate rice mixture until cold.

 In a food processor, puree pheasant tenders to a paste consistency to use as a binder for rice mix.

When rice is cool, add the pheasant puree to the rice until well mixed.

Adjust seasoning with salt and pepper and return to refrigerator until ready to stuff.

Preheat oven to 400 degrees F. 

Make 10 small football shaped patties of the rice mix, stuff inside the pheasant, being careful not to overstuff the pheasant.

Rub herb/oil mixture on top and bottom of the pheasant, season with salt and pepper.

Place the pheasants on a heavy gauge roasting pan and then in a preheated oven for approximately 8-10 minutes.

Remove pheasants from oven and cover with lid or foil and allow to sit for 10 minutes before serving over sautéed spinach.
Notes
By Chef Shannon Shaffer, Design Cuisine, Arlington, VA Recipes from the 2009 Inaugural Luncheon courtesy of Design Cuisine.
EXPERTLY FARMED & PREPARED
The Finest Meat & Poultry
Recipes?
MacFarlane Pheasants bring gourmet flavor, convenience and flair to the menu. From appetizers to pheasant entrees, this traditional gourmet ingredient adds natural flavor to make simply sensational salads, appetizers and savory pheasant stir-fry dishes. We offer a wide selection of pheasant recipes for appetizers, soups, salads, and entrees.