Cormier Pheasant Scaloppini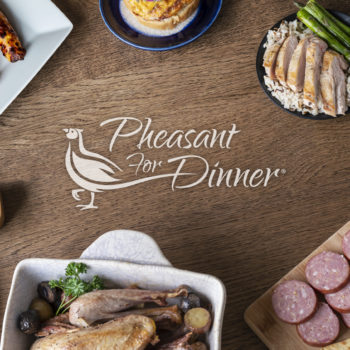 A great way to prepare your spare pheasant breasts off your pheasant!
Ingredients
3

lbs

MacFarlane Pheasant Remove the breasts (may need 3-4 pheasants) or buy MacFarlane Pheasant Breasts. Pound into 1/2 thick cutlets

2

Cup

Plain Bread Crumbs

1

Cup

Fresh Grated Pecorino Romano Cheese

6

Cloves

Pressed Garlic

1/2

Cup

Freshly Chopped Curly Parsley

3

Pinches

Sea Salt

2

Tbsp

Fresh Ground Black Pepper

1

Cup

Fresh Squeezed Lemon Juice

1

Cup

Chicken Stock

1/2

Cup

White Wine

3

Tbsp

Butter

1/4

Cup

Capers
Instructions
Combine breadcrumbs with grated cheese, garlic, parsley, 1 pinch of salt and 1 tablespoon of black pepper. 

Mix thoroughly to ensure that garlic is evenly distributed throughout mixture.

Place each pheasant breast half between 2 sheets of heavy-duty plastic wrap; pound to 1/4-1/2 inch thickness using a meat mallet or rolling pin. 

Dip pheasant in lemon juice, and sprinkle with remaining salt and pepper.

Dredge pheasant in breadcrumbs mixture. 

Heat a large nonstick skillet, coated with olive oil, over medium high heat. 

Add pheasant to pan and cook for 3 minutes on each side or until pheasant is done – do not overcook as it will continue to cook while warming. 

Remove from pan and keep warm in baking dish in warm oven.

Once all pheasant is cooked, use the pan to cook sauce as a deglaze. 

Add broth and wine to pan, and cook for 2 minutes, stirring constantly. 

Stir in capers and butter.

Place pheasant on a deep platter and then pour sauce over platter. 

Serve immediately with a summer vegetable orzo or a roasted root vegetable and truffled sage fresh pasta.
Notes
Wine pairing – Bergstrom Shea Vineyards Pinot Noir Entrant: Karen McShea
EXPERTLY FARMED & PREPARED
The Finest Meat & Poultry
Recipes?
MacFarlane Pheasants bring gourmet flavor, convenience and flair to the menu. From appetizers to pheasant entrees, this traditional gourmet ingredient adds natural flavor to make simply sensational salads, appetizers and savory pheasant stir-fry dishes. We offer a wide selection of pheasant recipes for appetizers, soups, salads, and entrees.