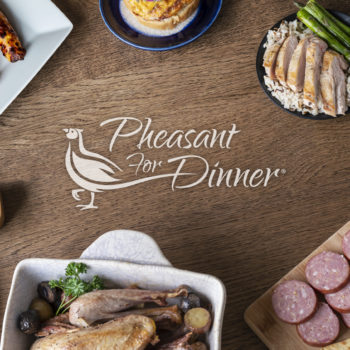 This is a great Pate that you can serve at any party, event, or even just at home!
Ingredients
1

MacFarlane Pheasant Breast

Fully cooked and cooled

1

tsp

Soft Butter

1

Tbsp

Chopped Onion

1

tsp

Chopped Garlic

1

oz

Cognac

1

Tbsp

Chopped Parsley and Rosemary

Mixed

1/2

tsp

Salt

1

Dash

Pepper

1/2

tsp

Mustard

1

tsp

Mayonnaise
Instructions
Remove skin and bones from cold breast, then put through meat grinder with small to medium holes, set aside.

In a medium saucepan, add butter, onion and garlic.

Sauté until onions are translucent, deglaze with cognac. 

Reduce mixture to half the volume. 

In a medium mixing bowl, add onion mixture, pheasant and remaining ingredients.

Mix until very well blended.

Add to a decorative mold or mold into desired shape.

Place covered in a refrigerator for 1-2 hours, or until fully set.

Serve with breads, nuts and dried cranberries.
Recipes?
MacFarlane Pheasants bring gourmet flavor, convenience and flair to the menu. From appetizers to pheasant entrees, this traditional gourmet ingredient adds natural flavor to make simply sensational salads, appetizers and savory pheasant stir-fry dishes. We offer a wide selection of pheasant recipes for appetizers, soups, salads, and entrees.