Pheasant Dunkers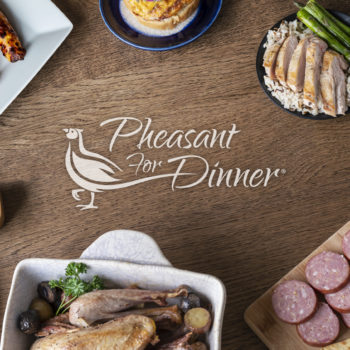 Looking for a recipe that is delicious and the kids will love? Try these Pheasant Dunkers!
Ingredients
1

Pack

MacFarlane Pheasant Breasts

Cut into strips

3

Eggs

1-2

tsp

Garlic Powder

1-2

tsp

Onion Powder, Salt, and Fresh Ground Black Pepper

To taste

1

Pack

Plain Bread Crumbs

Canola Oil

For frying
Instructions
Preheat at least 1 inch of canola oil in a deep fry pan to 350 degrees F.

In a glass bowl, whisk the eggs together and add the garlic and onion powder.

Add the salt and pepper and whisk well. 

Place the pheasant in the bowl for a few minutes. 

Meanwhile, sprinkle the crumbs or cereal on a large plate or into a plastic bag. 

Roll each pheasant strip in crumbs until fully covered. 

Using tongs, add the pheasant to the hot oil and fry until a deep golden brown until the meat is completely cooked, approximately 2-3 minutes per side.

Drain on paper towels and serve with various dipping sauces or mustards.
Notes
Oven option: Preheat oven to 400 degrees F and have an ungreased pan with low sides ready to place pieces on. Place pheasant pieces evenly spread out in the pan, place in preheated oven for 5 minutes, then turn over. Heat for another 6-8 minutes until slightly firm to the touch. Serve with your favorite sauces.
EXPERTLY FARMED & PREPARED
The Finest Meat & Poultry
Recipes?
MacFarlane Pheasants bring gourmet flavor, convenience and flair to the menu. From appetizers to pheasant entrees, this traditional gourmet ingredient adds natural flavor to make simply sensational salads, appetizers and savory pheasant stir-fry dishes. We offer a wide selection of pheasant recipes for appetizers, soups, salads, and entrees.