Dry Sack Braised Pheasant Thighs, With Caramelized Root Veggie & Crisp Potatoes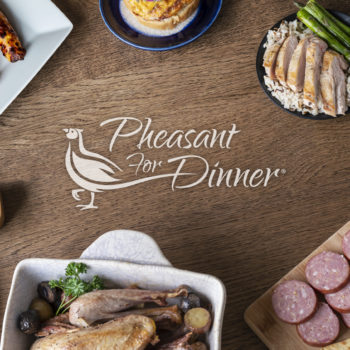 Pheasant thighs paired perfectly with root veggies and crispy potatoes.
Ingredients
2

oz

Olive Oil

3

lbs

MacFarlane Pheasant Boneless Thigh Meat

10

oz

Dry Sack Sherry

5

Cups

Pheasant Stock

3

Sprigs

Thyme

1

tsp

Juniper Berries

1

Bay Leaf

Salt

To taste

Pepper

To taste

2

oz

Extra Virgin Olive Oil

8

oz

Rutabaga

Blanched and diced

8

oz

Celeriac

Blanched and diced

8

oz

Butternut Squash

Blanched and diced

2

Tbsp

Parsley

Chopped

1

Tbsp

Sage

Chopped
Instructions
Season pheasant thighs with salt & pepper on both sides. 

Preheat sauté pan over medium high heat and add the olive oil. 

Lightly render and brown the skin on the thigh meat; remove from the pan and reserve.

Deglaze the pan with Dry Sack Sherry and reduce by half; add the pheasant stock, thyme, juniper berries, and bay leaf and bring to a simmer.

Place the thighs, skin side up in a roasting pan and add the hot stock. 

Make sure there is adequate stock to completely cover the thighs.

Cover with foil, place in a 275 degrees F oven and cook until fork tender (about 2.5 hrs).

Strain stock & lightly thicken sauce consistency with roux or cornstarch.

Sauté root veggies in extra virgin olive oil until lightly caramelized and hot throughout.

Add herbs and season to taste or eye appeal – Garnish with mini potato chips and chopped smoked almonds.
Notes
Recipe compliments of: Ken Arnone CMC, WACS Global Master Chef www.ka-cmc.com
EXPERTLY FARMED & PREPARED
The Finest Meat & Poultry
Recipes?
MacFarlane Pheasants bring gourmet flavor, convenience and flair to the menu. From appetizers to pheasant entrees, this traditional gourmet ingredient adds natural flavor to make simply sensational salads, appetizers and savory pheasant stir-fry dishes. We offer a wide selection of pheasant recipes for appetizers, soups, salads, and entrees.