Braised Pheasant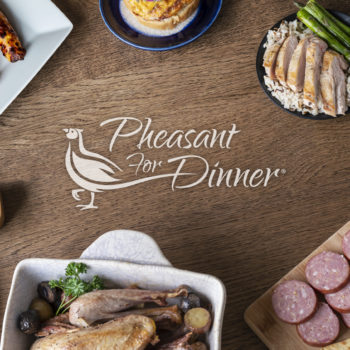 A delicious braised pheasant made with a bit of apple whisky and apples!
Ingredients
2

MacFarlane Pheasant

2.5-3 lbs

1/4

Cup

Oil

Safflower or Canola is recommended

3

Cups

Granny Smith Apples

Peeled and thinly sliced

1

Cup

Onion

Thinly sliced

1/2

Cup

Apple Jack

Or apple juice with a shot of Brandy

1

tsp

Nutmeg

1/2

Cup

Half & Half

1/2

tsp

Salt-Free Seasoning Blend

Ground Black Pepper

To taste
Instructions
Preheat oven to 350 degrees F (175 degrees C). 

In a large Dutch oven, over medium heat, brown the pheasants in the oil on all sides.

 Tuck the sliced apples and onions in and around the pheasant.

Pour the apple jack over it all and light it on fire.

Shake pan until flames subside.

Dust the tops of the pheasant with nutmeg.

Bake covered for about 1 hour, or until the juices run clear when a knife is inserted into the thigh.

Remove the pheasant, apples and onions to a platter and keep warm in the oven. 

Transfer juices to a saucepan and bring to a simmer over medium heat. 

Stir in the half-and-half and let simmer for 5 minutes, stirring frequently. 

Season to taste with salt-free seasoning blend and ground black pepper.

Pour over the pheasants and serve.
EXPERTLY FARMED & PREPARED
The Finest Meat & Poultry
Recipes?
MacFarlane Pheasants bring gourmet flavor, convenience and flair to the menu. From appetizers to pheasant entrees, this traditional gourmet ingredient adds natural flavor to make simply sensational salads, appetizers and savory pheasant stir-fry dishes. We offer a wide selection of pheasant recipes for appetizers, soups, salads, and entrees.